La jeep oggi in Italia
è proprio quella usata
durante le riprese di Timelash!
Paolo Malaguti's jeep is the one filmed in Timelash!
Paolo Malaguti e Ed Bishop in giro con la jeep di UFO.
Paolo Malaguti and Ed Bishop drive around on the UFO jeep.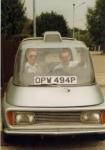 La jeep era stata riverniciata con la stessa tinta usata in Doppelganger...
The jeep had been re-painted as in Doppelganger...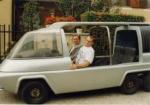 ...ma abbiamo in progetto di riportarla al suo "look" originale non appena possibile.
...but plans to restore it to its UFO look are underway.